We are the Paulichen family, missionaries to Uruguay, South America. Our family is proud to be sent out of Pembina Valley Baptist Church in Winkler, Manitoba. Our pastor is Dr. Michael Sullivant and we are sent through CanAmera Baptist Missions International, a ministry of Pembina Valley Baptist Church.
Both Marco and Patricia attended Canadian Baptist Bible College, a ministry of Pembina Valley Baptist Church. Marco graduated May 2016 with a Bachelor of Theology in Missions. Our family has taken two trips to South America, one in 2009 and one in 2016, and were blessed to be able to spend a total of three months there. To read more about us, our doctrine, our calling and our goals, please feel free to visit the links at the top of this page.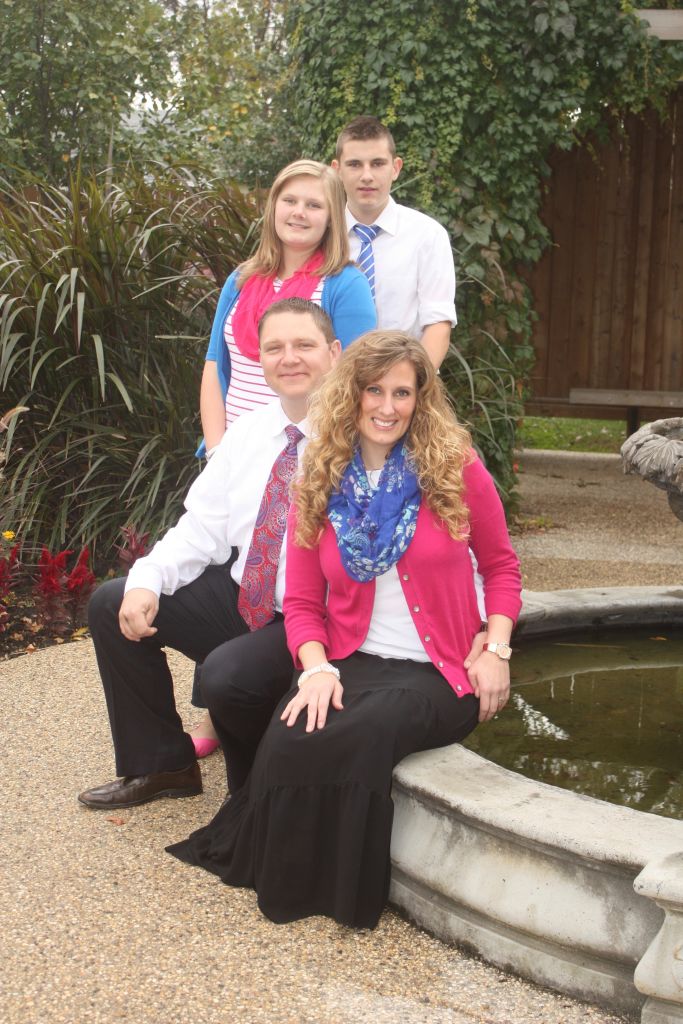 Marco
I grew up in Calgary, Alberta, the youngest child of an Argentine mother and Uruguayan father. As a result of my parent's upbringing, I grew up speaking Spanish as my first language. I had a faithful Sunday school teacher who taught me the word of God. One day after class as a young boy I asked Jesus to save me with my Sunday school teacher. Praise the Lord for faithful workers.
Throughout my teen years I got into trouble but finally surrendered to preach in 2002 and, in 2006, surrendered to serve in full-time missions. In 2009 God gave my family the opportunity to travel to the countries of Uruguay and Argentina to seek where God could use us. During our two month survey trip, our family visited many churches and I was able to see 3 souls saved.
God has since called me to attend Canadian Baptist Bible College, a ministry of Pembina Valley Baptist Church. While there, God solidified in my heart the call to Uruguay. Over the years I have had the privilege of being able to preach in both English and Spanish, lead an adult Spanish Sunday school class, as well as a teen Sunday school class and junior church. I have led singing, baptized believers, been active in the choir, and helped in various other ministries of the church. I have also been active in the translation ministry of Pembina Valley Baptist Church, translating the services real-time into Spanish for our Spanish speaking members. In 2016 I graduated from Canadian Baptist Bible College with a Bachelor of Theology degree in Missions.
Patricia
I was born in Southern Ontario into a home where God was not known. My life was wicked, full of sin and self. By the age of 20 I was suicidal and at the end of myself. In my desperation, I cried out to God and he heard me. In 1997 God organized a meeting between myself and a street preacher in downtown Calgary. Although the encounter was short, he left me with a gospel tract, asked my name, and said he would pray for me. After reading the tract, I was convicted of my sin. I knew I was a sinner bound for hell. I wanted to escape hell, so I looked for salvation in good works.
Eight months later God brought along a soul-winner who took out a gospel tract and a Bible and showed me what I was searching for — salvation through Jesus Christ. I was reconciled to God on April 10, 1998. The soul-winner God used to bring me to himself was Marco. Marco and I were married the following year. Salvation has completely changed me. I now have purpose and hope in Christ.
I surrendered myself to the Lord for full time service in 2001 and to missions in 2006. Since that time I have been making preparations to serve alongside my husband in our future home of Uruguay. I have taught both Sunday school and children's clubs, organized and facilitated ladies meetings, participated in our church choir, as well as various other ministries and outreaches of our church.
Joshua
I was saved just before the age of 5. I can remember asking my parents late one night how to get saved. I sat between them and they showed me verses from the Bible. That was June 23, 2005.
After I received Christ, I was excited and started reading my Bible daily as I learned to read. I got baptized at 6 years old and in 2009, I made my first trip to Uruguay. It was a new experience.
In 2011 we moved to Manitoba so Dad could attend Bible college. Shortly after he graduated in 2016, our family made another trip to Uruguay, this time with a specific vision of going to Salto. I got to see God work that trip in a real and personal way with our family. I am looking forward to going back to stay.
Josephine
Living in a Christian home, I don't remember hearing the plan of salvation the first time. We went to church every time the doors were open and, as young as I can remember, I knew who Jesus was and what he did. But not until I was 5 did I fully understand what the gospel is and how it applies to me.
One night, I remember kneeling beside my bed and praying. I didn't yet know why I prayed other than the fact that I wanted to get saved. The next morning I told my mom what I had done the night before. She took the Bible and we spent some time talking. She told me why I needed to be saved: because I, as a sinner, needed a Saviour. That morning, October 28, 2007, I trusted Jesus as my Saviour.
I am excited to serve the Lord in Uruguay and see how he can use me there.
SCRIPTURES
The Holy Bible, consisting of sixty-six books of the Old and New Testament Scriptures was written by divinely inspired men. Jesus is the theme of the Scriptures. It is a treasure of Heavenly instruction with God for Its Author and salvation for Its end. It is perfect and ought not be added to, removed from or changed. It reveals the principles by which all human conduct, creeds, and opinions should be tried. It is inerrant, infallible and plenary in its content and origin. God has supernaturally preserved Its words through the ages, through the nation of Israel culminating in the Bomberg Text of the Old Testament, and the Received Text of the New Testament. It has been translated in an unprecedented manner in the King James Bible. This is the only Bible for the English speaking world. All theories, philosophies and theologies that are contrary to the Bible (i.e. Calvinism, Arminianism, Humanism, Freudianism, Darwinism, Marxism, etc.) are to be rejected as they lead to destruction and ultimately a futile attack against a holy God and His word.
Proverbs 30:5-6; Luke 16:31; John 5:39, 10:35, 12:47-48, 17:17; Acts 3:21; Romans 2:12; II Timothy 3:16-17; Hebrews 10:7; II Peter 1:21; Revelation 22:18-19.
GOD
There is only one living and true God. He is an infinite, intelligent Spirit. the Maker and Supreme Ruler of Heaven and earth. He is inexpressibly glorious in holiness and worthy of all possible honour, confidence and love. In the unity of the Godhead there are three persons – the Father, the Son, and the Holy Ghost. They are equal in every divine perfection and execute distinct but harmonious offices in the great work of mankind's redemption.
Exodus 15:11; Psalm 83:18, 147:5; Jeremiah 10:10; Mark 12:30; John 4:24; Romans 1:20; Ephesians 2:18; Hebrews 3:4; Revelation 4:6-11.
CHRIST
The Lord Jesus Christ is the very God by whom and for whom all things were created. He was born of a virgin, conceived by the Holy Spirit, and is God Himself manifest in the flesh. He lived a perfect, sinless life and gave Himself as a perfect sacrifice for the sins of all men before rising bodily from the grave.
Genesis 3:15; Isaiah 7:14; Matthew 1:18-25; John 1:1-29; I Corinthians 15:4-8; II Corinthians 5:21; Hebrews 4:15, 9:14-28.
HOLY SPIRIT
The Holy Spirit is a person (not a force or influence) equal with God the Father and God the Son and of the same nature. He convicts the world of sin, of righteousness, and of judgment and is the Divine Agent of regeneration. At the instant of the New Birth by means of a supernatural baptism, the Holy Spirit brings each Church-Age believer into the family of God and forthwith indwells and seals that believer unto the day of redemption. The Holy Spirit is the believer's Divine Teacher who guides and directs them into all truth and helps them to understand and appropriate the Scriptures. The saved are commanded to yield themselves daily to that Divine leadership. In so doing, we are continuously filled with the Spirit. Each believer is enabled by the Holy Spirit to serve the Lord by imparting to each person at least one spiritual gift.
John 14:26, 15:26, 16:7-11; Romans 8:9-27; 1 Corinthians 1:22, 12:4-13; Ephesians 1:13-14; Ephesians 1:17-18; 5:18; 1 John 2:20,27.
CREATION
The Genesis record of creation is fully literal and not allegorical or figurative in any way. God personally created the heaven and the earth in a direct act lasting six days, bringing forth all original matter out of nothing. Man was created directly in God's own image and not by the hypothesis of any kind of evolution. All men are descended from Adam and Eve, historical people, first parents of the entire human race.
Genesis 1-2;  Exodus 20:11;  Matthew 19:4; John 1:1-3;  Acts 17:23-26;  Romans 1:20; Colossians 1:16-17; Hebrews 11:3.
MAN
Man was originally created in innocence under the law of his Maker. By voluntary transgression he fell from that holy and happy state. Consequently, every man born has a corrupt sin nature, is personally guilty before God and is inclined to do evil. Being by nature void of the holiness required by the law of God and inclined to do evil, man is under God's just condemnation to eternal ruin outside of the redemptive work of Christ. Because man is created in the image of God, he is not as evil as he possibly could be.
Genesis 1:27, 2:16-17, 3:6-24; Psalms 51:5; Isaiah 53:6, 64:6; Ezekiel 18:19, 20; Jeremiah 17:9; Acts 17:26; Romans 5:12, 19; Romans 1:18,28, 2:1-16, 3:9-23; 5:12-19; 6:23; Galatians 3:10; Galatians 3:22; Ephesians 2:1-3; 4:17-19.
THE RIGHTEOUS & THE WICKED
There is a radical and essential difference between the righteous and the wicked. Those who are justified in the name of the Lord Jesus and sanctified by the Spirit of God are truly righteous in His esteem. All such who continue in impenitence and unbelief are, in His sight, wicked and under eternal condemnation. This distinction holds among men both in this life and after death, in the everlasting bliss of the saved in a literal heaven and the everlasting conscious suffering of the lost in a literal hell.
Genesis 18:23; Psalm 10:4; Proverbs 14:32; Malachi 3:18; Isaiah 5:20, 55:6-7, 57:21; Matthew 7:14, 25:46; Mark 9:43-48; Luke 16:19-31; John 3:36, 5:28-29, 12:25, 26; Acts 10:34, 35; Romans 6:16-22; 1:17; I Corinthians 11:32; Galatians 3:10; I John 2:29, 3:7, 5:19; Revelation 20:11-15.
SALVATION
Salvation has nothing to with any meritorious work or act of personal reformation made by mankind. Salvation of sinners is wholly by grace through the shed blood and mediatorial offices of Jesus Christ, the Son of God. Christ is every way qualified to be a compassionate and an all-sufficient Saviour. Christ, according to the will of His Father, assumed the nature of man yet without sin. He honoured the Divine Law by His personal obedience and, by His death, made a full atonement for the sins of mankind. Having risen from the dead, Christ is now enthroned at the right hand of the Father in Heaven interceding as man's High Priest.
Both repentance and faith are necessary for salvation; either one alone is of no eternal value. Salvation can only be received individually through faith in Christ's finished work on Calvary, in repentance of all other means of salvation.
Salvation is an instantaneous act and not a process. This the new birth experience causes the one who was dead in trespasses and sins to be made a partaker of the Divine nature, receiving the free gift of eternal life. The new creation is brought about in a manner above human comprehension, solely by the power of the Holy Ghost. Proper evidence of salvation appears in the manifested fruit of the Spirit.
Isaiah 53:4, 5; Matthew 18:11; John 1:1-14, 3:3-16, 6-8; Acts 15:11, 16:30-33; Romans 6:23; II Corinthians 5:17-21, Ephesians 2:5; Colossians 2:13; Hebrews 7:25, 12:24; II Peter 1:4; I John 4:10, 5:1.
ADOPTION & PERSEVERANCE OF THE SAINTS
Adoption is a gracious act by which the Father, for the sake of Christ, allows saved sinners into the family of God, entitled to all the rights, privileges and promises of children. They are heirs of God, and joint-heirs with Christ. As in earthly families, children of the Heavenly Father cannot be unborn or once again lost. One who is truly born again will, by the grace of God, continually experience the divine discipleship of the Holy Spirit through the Word of God.
John 6:39, 10:27-29; Romans 8:14-39; Galatians 3:26; 4:6, 7; Ephesians 1:5; Philippians 1:6; 2:12-13; Hebrews 13:5; I Peter 1:5; I John 2:19-28; 3:1-9; 5:18; Jude 24-25.
SANCTIFICATION
Sanctification is the process by which, according to the will of God, we are made partakers of His holiness. It is a progressive work begun in regeneration and carried on in the hearts of believers by the indwelling presence and power of the Holy Spirit. The principle means of sanctification are the Word of God, prayer, self-examination, self-denial, and the practice of godly exercises and duties.
Positionally, every believer is in Christ and is completely set apart unto God. Experientially, however, he retains his sin nature in this life, thereby necessitating his continual dependence on the power of the Holy Spirit. This is necessary for growth in Christlikeness and victory over sin in his practical experience.
Proverbs 4:18; Romans 8:5; II Corinthians 3:18, 7:1, 13:9; Ephesians 1:4; Philippians 2:12-13; I Thessalonians 4:3; 5:23; Hebrews 6:1; I Peter 1:15-16, 2:2; II Peter 3:18.
CHURCH
A church is a congregation of immersed believers associated by a covenant of faith and fellowship of the Gospel. It observes the ordinances of Christ, governed by His Laws, and exercises the gifts, rights and privileges invested in them by His Word. Its only scriptural officers are bishops or pastors and deacons whose qualifications, claims and duties are clearly defined in the Epistles of Timothy and Titus. The true mission of the church is the faithful witnessing of Christ to all men as opportunity presents itself, and the building up and edifying of the saints. The local church has the absolute right of self-government, free from the interference of any hierarchy of individuals of organizations. The one and only Head is Christ through the administration of the Holy Spirit.
Matthew 18:15-20, 28:20; Acts 2:41-47, 14:23, 15:22; I Corinthians 4:17; I Timothy 3; Titus 1.
BAPTISM & THE LORD'S SUPPER
Christian baptism is the immersion of the believer in water in the name of the Father, the Son, and the Holy Ghost. It is performed with authority of the local church to show forth the solemn and beautiful emblem faith in the crucified, buried, and risen Saviour. It symbolizes the believer's death to sin and resurrection to a new life in Christ. Scriptural baptism is a prerequisite for church membership.
The Lord's Supper is the commemoration of the death of Christ until He comes again using unleavened bread and of the fruit of the vine. In order for believers to partake, they should be in a right relationship with God and man. It is to be preceded always by solemn self-examination.
There is no saving power or grace in either ordinance. For a believer to willingly abstain from either ordinance is rebellion.
Matthew 3:6-16, 26:17-30, 28:19-20; Mark 14:22-26; John 3:23; Acts 2:41-42, 8:36-39; Romans 6:4,5; Colossians 2:12; I Corinthians 11:23-28.
CIVIL GOVERNMENT
The Scriptures teach that civil government is of Divine appointment, for the interest and good order of human society. Magistrates are to be prayed for as well as conscientiously honoured and obeyed except only in things opposed to the clean commands of Scripture. Civil rulers have no right to control over or interfere with religious matters.
Psalm 2;  Psalm 72:11; Daniel 3:15-18, 6:7-10; Matthew 10:38, 22:21, 23:10; Acts 4:18-20, 5:29; Rom. 13:1-7; I Timothy 2:1-8; Titus 3:1; I Peter 2:13; Revelation 19:16.
ANGELS
Angels are beings created by God which are distinctly different from man in their nature and activity. While some are emissaries of God, others are in rebellion against God. The Devil is an actual being who, though created for God's service, encouraged other angels to betray their Creator through rebellion against Him. As an agent in the original fall of man, the Devil continues to operate today as the god of this world and the prince of the power of the air. He is the arch deceiver and the father of all lies. He is the greatest enemy and opposition, as well as the biggest tempter of the saints. His final abode shall be the lake of fire, which is the eternal place of punishment prepared by God for both him and his angels.
Job 1:6-12; Isaiah 14:12-17; Ezekiel 28:11-17; Matthew 4:1-3, 25:41; II Corinthians 4:4; Ephesians 2:2; 1 Peter 5:8; Jude 6; Revelation 19:20, 20:10.
THE RETURN OF CHRIST & THE RESURRECTION
There will be a bodily, personal, pre-millenial, pre-tribulational return of the Lord Jesus Christ to catch away His church. This is otherwise known as the Blessed Hope or the Rapture. During the Rapture, believers who sleep in Jesus will be raised and caught up together with transformed living saints to meet the Lord in the air. This event begins a seven-year period on earth known as Jacob's Trouble or Daniel's Seventieth Week, also known as the Great Tribulation.
The unsaved dead will be raised at the close of the Millennial Kingdom to be tried at the Great White Throne Judgement. The nations of the earth will be judged prior to His eternal kingdom on earth.
Daniel 2:31-45; Zecheriahs 14:4-11; Matthew 24:15-31, 25:31-46; John 5:21-30; Romans 8:23; Acts 1:6-7, 11; 1 Corinthians 15:3-4,42-58; 1 Thessalonians 1:10, 3:13, 4:13-18; Titus 2:13; Revelations 7:9-17, 19:11-21, 20:1-4.
SOULWINNING & MISSIONS
The reconciling of souls to Christ is the responsibility of every believer. This is to be done in reaching the lost and erring either in groups or individually. This responsibility of the believer is both local and global. As ambassadors of Christ, believers must use any appropriate means at all available times to offer to every person the gift of salvation.
The church has been given the Great Commission to proclaim the Gospel to all nations so that there might be a great multitude in Heaven of the saved from every nation, tribe and tongue. This is done through the sending out and supporting of missionaries who are called of God to complete the task of world evangelization to a certain region or country.
Leviticus 8:15; Proverbs 11:30; Matt. 28:18-20; Mark 16:15; Luke 24:46-48; John 20:21; Acts 1:8; Rom. 10:13-15; 2 Corinthians 5:18-20.
THE GRACE OF GIVING
Scriptural giving is one of the fundamentals of the faith and true Christian generosity is an outcome of living by faith. Every Christian, as a steward of the portion of God's wealth entrusted to him, is obligated to wilfully give back a portion to the Lord. The place to tithe is the local church and the time to tithe is upon the first day of the week.  Tithing was practised before the law, dictated during the law, continued by Christ in the New Testament and will continue in the coming kingdom.
God calls upon individuals to give sacrificially through faith for the work of world evangelization. This is done in the spirit of the modern missionary movement.
Any additional amounts given towards other Christian works is left as an individual matter between every believer and his God. Needs may be expressed corporately for special projects or support of a specific ministry and may be urged upon the church for the sake of love and good works.
Genesis 14:20, 28:22;  Leviticus 27:30-32; Deuteronomy 12:5-6,11-14;  Proverbs 3:9-10; Malachi 3:8-11; Matthew 23:23; Luke 6:38; I Corinthians.16:1-2;  II Corinthians 8:1-16, 9:6-13; Galatians 6:6; I Timothy 5:17-18; 2 Corinthians 8,9 & 11:9
FELLOWSHIP & SEPARATION
Believers should fellowship with each other for the purpose of encouragement and edification. Likeminded churches may work cooperatively to edify one another as well or in order to fulfill the Great Commission. This is only to be done so long the autonomy of each church is maintained. One church must not have any authority or jurisdiction over another as Christ is the Head of the church.
Churches and individual believers are commanded to separate from all forms of apostasy, false gospels and worldliness. This includes modernism, liberalism, "Social Gospels," the Ecumenical Movement, New Evangelicalism, Neo-Orthodoxy, the Charismatic Movement and any other false theologies, philosophies or gospels. Believers, therefore, are called upon to separate from all alliances, churches, groups, organizations or individuals that sanction such doctrines and from those who tolerate or condone them. Believers should in no way have fellowship with such unfruitful works of darkness as they are of antichrist.
Churches are to be non-charismatic. Tongues has never been a common or necessary sign of salvation or the baptism or filling of the Holy Spirit. The sign gifts were given for the purpose of authenticating the teaching and preaching of the Apostles in the appropriate age. They were specifically given in fulfillment of prophecy as a confirmation to unbelieving Jews and were transitional in nature. Upon the completion of the Word of God, these sign gifts ceased. Though God does continue to work miraculously in this day and age, He does not do it through sign-gifted individuals such as so-called "faith healers." Ultimate deliverance of the body from sickness or death will come in the resurrection.
Psalm 133:1-3; Amos 3:3; Matthew 7:15-20; Acts 19:8-10; Romans 12:1-2; 14:13, 16:17-18; I Corinthians 1:22, 13:8-10, 14:21-22; II Corinthians 6:14-17:1; Galatians 1:8-10; Ephesians 5:11; Philippians 3:17-19; II Thessalonians 3:6; I Timothy 6:3-6; II Peter 2:1-2; I John 1:6-7, 2:15-22; II John 7-11; Jude 3-4.
In 2009 our family had the privilege of traveling to South America. We had already surrendered to serve the Lord in full-time missions in 2006, but were not yet sure of the exact country. In our two months in South America we visited approximately 30 churches seeking the Lord's will for our family. We were also able to see 3 souls saved which confirmed to us that we were in the field of the Lord's choosing.
While our hearts were stirred many ways during our travels, we were especially struck with the lack of churches in the interior of Uruguay. It was shortly after that our family began to pray about a specific location the Lord laid on our hearts — the city of Salto.
2 days after Marco's graduation from Canadian Baptist Bible College in 2016, our family once again traveled to South America. We spent most of the month of May in the city of Salto seeking specifics regarding the Lord's will for us. Although primarily atheists or non-practicing Roman Catholics, the people of Salto readily took the Spanish gospel tracts we gave them. In answer to prayer, several people engaged in long conversations when spoken to about their souls and one lady trusted Christ.
While in Salto we were introduced to a small group of conservative, evangelistic Baptist believers. They are eagerly anticipating our return to Salto and are making preparations for our arrival. We, too, are looking forward to this new chapter in our lives. Please watch the short video below to hear more about our time in Salto and the exciting answers to prayer we received on that trip.
The door is currently open for Truth in the city of Salto. Please join us in prayer for the many souls who are in need of Christ throughout Uruguay.
God's work is not man working for God; it is God's own work, though often wrought through man's hands.
James Hudson Taylor
Finally, brethren, pray for us, that the word of the Lord may have free course, and be glorified, even as it is with you
2 Thessalonians 3:1